I also use Tropic Skincare award winning range of products, 100% naturally derived, organic,vegan and cruelty-free, packed with the most innovative ingredients that nature has to offer.
Signature Bespoke Facial
60min
£65.00
Delivering healthy, beautiful skin whatever your concern, my extensive knowledge and expertise allows this highly effective bespoke treatment to be tailored to the needs of everyone. Bespoke massage techniques on face, scalp, and shoulders, promise calm, rejuvenated skin that glows with youthful radiance.
My teen facial is an introduction to the world of daily skin care.
Learn how to properly cleanse pores and care for your skin. Reduction of blackheads,
cleansed healthier skin, leaving your skin fresh, hydrated, and protected.
Microneedling
What is dermapen micro-needling?
Dermapen micro-needling uses a small dermatology treatment device (the dermapen), for a micro-needling procedure which has the capability to effectively address skin problems such as ageing, fine lines, stretch marks and acne scars.
The dermapen micro-needling treatment is able to achieve skin which is tighter, brighter and refreshed. Dermapen is now favoured by cosmetic experts around the world, after having proved its efficiency and effectiveness, as well as flexibility in how it is used.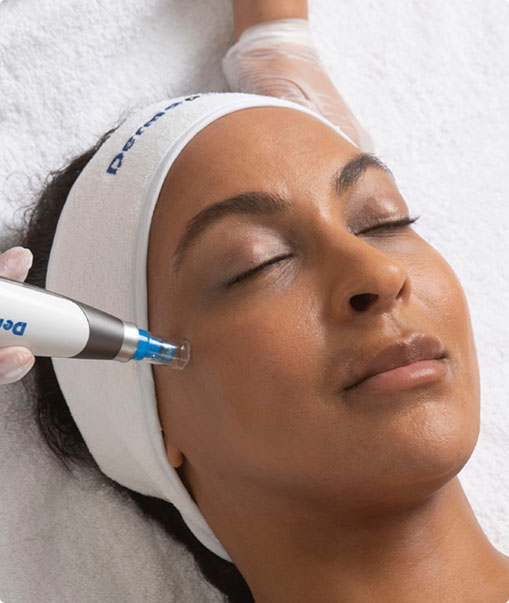 *Recommend Course of 3 (6 weeks apart)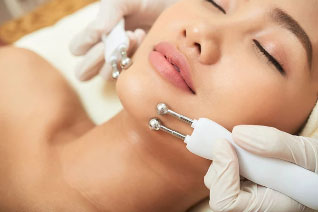 Bio-Therapeutic Non-Surgical Facelift
Enjoy a healthier, more youthful appearance with the ultimate in skin care technology: micro-current. Micro-current is a low level of electricity that mirrors the body's own natural electrical impulses. When used in conjunction with specialised products and manual manipulations. These tiny micro-current impulses encourage your body's natural current
Course of 10 (At lease 2 a week)
£450.00
Top up plus 30 min facial
£80.00
Cryopen
Cosmetic procedures such as skin tags, millia and cherry angiomas are no longer treatable as a standard NHS procedure, however the need for it is still necessary. Cryopen is a quick and easy solution to these common skin conditions without the need for anaesthesia or injections.

The procedure isn't painful and the process of healing following is no different. It usually takes 1-6 weeks depending on the size of the treatment area. Lesions usually assume a darker colour as the skin regenerates underneath it will slough or flake away.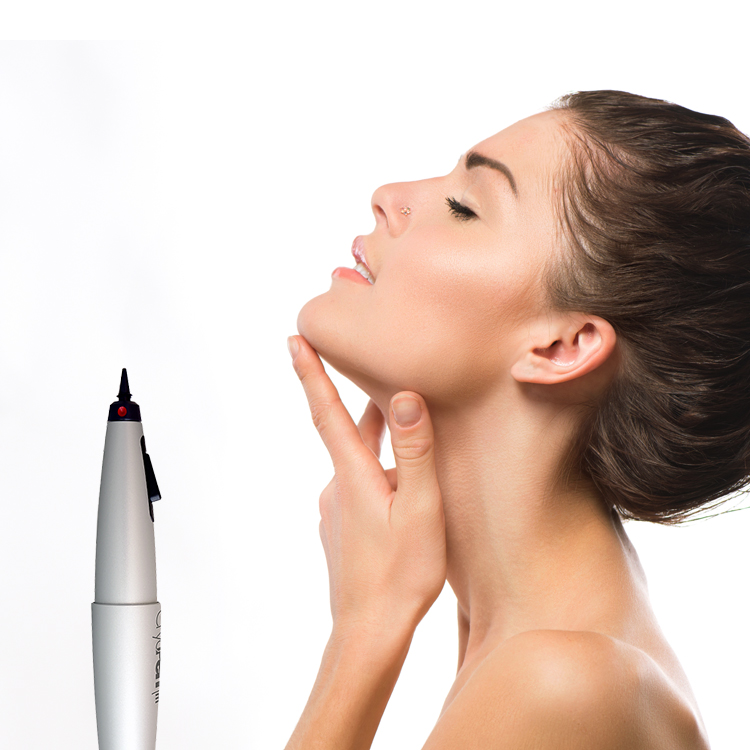 Initial Consultation
At your initial CryoPen consultation, l will examine any areas you wish to treat. From this, l can put together a bespoke plan and decide whether this is the most efficient course of treatment.
Depending on the size of the area you wish to treat, l may recommend CryoPen cryotherapy once, followed by an extra visit 4-6 weeks after to confirm that all pathological tissue has disappeared. In some cases, further treatment may be needed.
During Treatment
Before your CryoPen treatment, it is important that you do not use retinoids, exfoliating acids (AHAs, BHAs and PHAs) or physical exfoliants for at least 48 hours prior. Do not use fake tan or gradual tanner for at least two weeks before, and avoid laser or IPL treatments for two weeks before.
During treatment, highly pressurised liquid nitrous oxide is used to destroy skin tissue. It works by causing cryogenic cell death: killing the unwanted cells with extremely cold temperatures. CryoPen treatment is relatively pain-free, with most of our patients experiencing a mild stinging sensation for only seconds.
After CryoPen Treatment
Due to the nature of CryoPen treatment, less aftercare is needed than with other methods such as electrocautery, cold knife or laser. The affected area is often known to heal quickly, with minimal issues.
For 48-72 hours after treatment it is important that you do not sunbathe or use other heat treatments such as sunbeds, sauna or steam. This also includes avoiding swimming, hot showers and baths.
Please make sure to avoid applying makeup, soap, perfumed products or heavy moisturisers to the treatment area. Do not touch or cleanse the area or pick at any scabs that may form.
After CryoPen treatment, it is common to experience redness, swelling or blistering. This may last anywhere from a few hours to 48 hours after. You may apply aloe vera as required to the treatment area for the next 72 hours. When keeping this in the fridge, it has a nice cooling effect.
Regardless of the weather after your appointment, please make sure to use SPF 30 on the treated area. After the session, this area may appear darker, with scabs or crusting remaining for 10-30 days after. Total skin healing may take up to 3 months.
I recommend scheduling a follow-up appointment around four weeks after your treatment session to confirm that all pathological tissue has disappeared and whether additional treatment will be necessary.
Prices start from £60 depending on what your treatment involves.
Little extras to add to your facial
LIP OR CHIN THREADING WITHIN FACIAL
£15.00
EYEBROW TINT OR SHAPE WITHIN FACIAL
£10.00
EYELASH TINT WITHIN FACIAL
£15.00
EYELASH AND EYEBROW TINT WITHIN FACIAL
£25.00
Massage
A massage works every part of your body from head to toe. I will use a variety of movements, techniques, and levels of pressure to relieve tension and stress throughout your whole body.
A full-body massage is intended to leave you feeling deeply relaxed, energized, and motivated to face your day pain-free. Whether you're a massage newbie or an experienced massage enthusiast looking for a relaxing full-body release, getting a full-body massage is a great way to wind down and keep yourself in the best physical and mental health.
REFLEXOLOGY
Reflexology is a gentle and deeply relaxing holistic therapy, suitable for all the family. It is based on the principle of reflex areas on the hands and feet which correspond to all the glands, organs and structure of the body. The treatment can relieve tension, improve circulation and promote natural healing in the body.
Reflexology is used to bring about a state of deep relaxation in order to stimulate the body's own healing process and can aid:
Relaxation and sleep disorders.
Stress (anxiety/depression/fatigue etc).
 Relief of pain (back/arthritis/migraines etc).
 Help to improve circulation.
 Clearing the body of toxins and waste products.
 Post-operative recovery.
 Boosting the immune system.
 Pregnancy and fertility.
 Encouragement of the body to heal any current disorders.
,,
What
People Say
Noreen's mobile treatments have been an important and regular part of my beauty maintenance for several years now. She always provides a great service, with extremely high levels of professionalism and at an affordable price. Noreen is impressively up to date with the most effective new techniques and products and I completely trust her to advise me and bring the highest quality treatments to me in the comfort of my own home. Noreen also has a great sense of humour which makes leg sugaring much more bearable!
Catherine
Noreen is highly qualified and experienced and has a comprehensive list of treatments and treats on offer. She is very very good at what she does. She visits you in your own home - such a privilege - and gives sound advice on a wide range of therapies and products. Her prices are extremely reasonable; you definitely get (more than) value for money and I thoroughly recommend her.
Judith
Noreen works magic, she must do because I've been her client for 20 years. I look forward to my appointments , facials, non surgical face lifts, manicures and pedicures, which leave me feeling relaxed and pampered. Over the years l have know Noreen she has gone mobile with her own business, trained as a reflexologist and developed her own unique and very special range of treatments. If friends tell me l'am looking good it's all down to Noreen. Penny
Penny
Today was my first ever facial and first time having a beautician come home. Noreen was fantastic and made me feel at ease straight away. She clearly knows her stuff and is very professional. Her experience is apparent. She is a fountain of knowledge and freely shares her tips and advice. I am so glad I found her and look forward to my next treament. I highly recommend her. Thanks Noreen.
Leila
To have a monthly facial in the comfort of your own home is bliss. To have that facial with Noreen is also a privilege! For about 10 years now, Noreen has been advising me on skin care and beauty products and I trust her implicitly; she knows my skin better than I do! She is professional and kind and always leaves me feeling relaxes and glowing.
Bev